Published by Duane Breckenridge on Friday, September 26, 2008 at 1:29 PM
After the debacle at Southbend a couple of weeks ago, the Michigan Wolverines have had a week off to reflect and… hopefully improve as Big Ten conference play is set to begin. There was very little to be impressed with against Notre Dame as there was an overwhelming amount of turnovers and a great deal of immaturity shown by the players (and coaches). However, there were some bright spots observed. The QB issue appears to be resolved and it looks like Sam McGuffie is ready to become the next great RB at Michigan. The offensive line also seems to be coming together.

Common sense would lead you to believe that no team can expect to win football games with six turnovers. It doesn't matter if they are young OR… if there was a rain storm. Fundamental mistakes will bury any team, especially if they find themselves in a 21-0 hole in the opening quarter. Notre Dame is not a good team this season and I believe that Michigan had no business losing to them. The Wolverines dominated the Irish in offensive yards and they also controlled time of possession, so… yes… turnovers do kill.

Mistakes were made by several players. Brandon Minor fumbled on the opening drive THEN Michael Shaw mishandled a kickoff return on the following one. When the Wolverines appeared to be gaining momentum in the second half Kevin Grady fumbled on a potential scoring drive in the red zone. My bets are that Minor and Grady are pushing themselves deeper and deeper on the depth chart. When the rain started to come down, three more turnovers eventually sealed the Wolverines fate as they were unable to pull off the comeback.

In addition to turnovers… players started to lose their composure on the field. TE Carson Butler, who is a veteran mind you, allowed his frustrations to get him kicked out of the game. This was something very un-Michigan like. Sure, players will scrap and talk trash at one another from time to time, but… this was carried out in pure meltdown fashion. I expect that type of behavior out of teams like Miami or Michigan State, but not Michigan. It is critical that Rodriguez keeps this team under control, especially during times of adversity. Losing a game is indeed frustrating, but this team cannot afford to lose its overall focus because there is still plenty to play for.

Perhaps it was because the opponent was Notre Dame, but… the offense had its best game thus far as it showed good balance. Steven Threet earned the right to become the starter probably for the rest of the season. His confidence and inability to throw interceptions may have been the determining factor for coach Rodriguez. The McGuffie that everyone expected to see from You Tube fame seems to be coming along. The other RB's such as Shaw and Brown are still close behind, but McGuffie is undoubtedly the leader. Plus, it looks like Rodriguez has found his Steve Slaton. The WR's had their best game. Matthews is looking like the #1 option and Stonum made some solid diving catches. I've been waiting for Stonum to arrive. I had been criticizing Rodriguez for not going deep enough on pass plays, but now that Threet is the solid choice… I expect a lot more of the deep ball. Plus, the offensive line appears to be much improved since the opening game and that will allow Threet more time to make a decision.

The defense was solid despite the fact it was put into some horrible short field situations. Most of the scoring came off of the early turnovers, but there are still some issues at the safety position as Stevie Brown was again victimized and burnt. It seemed like WR Golden Tate was the only problem that the Wolverines had. I might also add that there was very little pressure applied to QB Jimmy Clausen and that was rather disappointing, considering the fact that he was treated like a rag doll in last season's game. Plus, the Spartans were able to abuse him last week. *sigh*

The special teams took a step backward. Zoltan Mesko was terrific, but there are still issues with the return game. I'm still not a believer of Donovan Warren being involved in returning kicks. I like Martavious Odoms or Brandon Harrison.

The Big Ten season is ready to kick off and I hope the young Wolverines understand that the conference appears to be wide open. Ohio State is overrated and relies too much on one player. Granted, they have a decent defense that could carry them a long way, but… I see them losing a couple of games. Penn State hasn't been tested and Illinois was never considered a favorite of mine. Other teams such as MSU and Purdue are cute, but… they don't have the tools to contend. The MSU Ringers will struggle with a bad QB. I'm also not buying into the Dantonio defense just yet. Wisconsin is a big game this week because they look like the best team in the conference. They play physical on both sides of the ball and have a knack for pulling off close victories. They are also well coached.

If the Wolverines want to redeem themselves and attempt to make some noise in the Big Ten this season… they must beat the Badgers this weekend at home. Going 1-3 to start the season could very well be demoralizing.

In any case, hope springs eternal and Go Blue!

Oh yeah… how did he injure his leg? He has legs?!?!?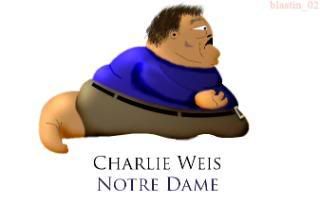 0 Comments: