Published by Duane Breckenridge on Tuesday, March 17, 2009 at 10:08 PM
As Tom Petty said…"the waiting is the hardest part."

The 11 year drought of Michigan basketball being left out of the big dance ended recently. But, technically… the Wolverines have not officially danced since 1995 according to NCAA sanctions, so… if one takes that into account… the wait has been even more agonizing and will-breaking for true fans of the maize and blue. From the bleak and embarrassing Brian Ellerbe era through Tommy Amaker's group of underachieving (and occasional Sparty beating) players, the road was tough to endure. Let's not forget the black eye result of the Martin (booster) scandal that plagued the program for some time.

A new era finally began in April of 2007 when Michigan hired the highly respected John Beilein from West Virginia. This marked a new beginning for the basketball program and has proven to be a successful step forward after many years of shame, mediocrity, complacency and Selection Sunday sadness.
To flashback … I remember when Ellerbe took the job after Steve Fisher resigned. The program was already under heavy investigation and the consequences were looming. Thus, Fisher knew he had to get the hell outta dodge. Of course Ellerbe took Fisher's kids (Bullock, Traylor, Conlan, Baston, etc.) and went on a memorable run to claim the first ever Big Ten tournament title, but as I stated above… that year and all of the glory that was the Fab Five beforehand would be later omitted from the NCAA record books. The banners of significant achievement were also taken down in Crisler Arena.
As the program started its downward spiral, Tom Izzo and the Spartans gained the upper hand and Big Ten dominance followed shortly after. Izzo also established a firm stranglehold in regards to recruiting, especially within the state of Michigan. I believe the determining factor that prompted me into hiding as a Wolverine basketball fan was the game against MSU in Ann Arbor (circa 2000-01'). The team took a 30+ point thrashing that evening and I basically refrained from watching any games for nearly a year. Embarrassing??? Why that's quite the understatement…

I consider my memory to be strong at most times and I tend not to forget most names that have played for the Wolverines, but the amnesiac effect of the Ellerbe era only allows me to recall the names (some good, some bad) of Avery Queen, Josh Asselin, Jamal Crawford (if he counts) and… Lavell Blanchard. Hmm… Bernard Robinson, Jr. is also worth mentioning.

The short-lived uniforms of those days were also forgettable.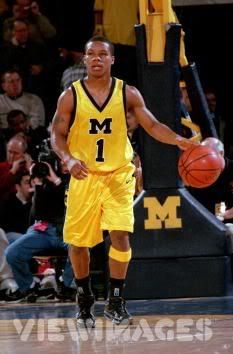 Following the Ellerbe debacle, the program desperately needed someone to clean it up. Michigan's choice was former "Dukie" player and assistant Tommy Amaker. The Amaker days did shed some positive light and reasons for optimism, however, matters just stayed the same and a sense of complacency started to become the norm. Amaker's second season at the helm (02-03) displayed good progress, but the program was under its last year of NCAA probation. The 03-04 season made me smile as the Wolverines won the cute (but shitty and aggravating after a while) futile NIT tournament. I had perceived things were moving forward, but I was proven otherwise.
The 05-06 season was when my patience had finally hit a point of exhaustion. The Wolverines only needed to win one more game over a mediocre Minnesota team they had beaten twice prior by well over double digits. Sadly, the result was a loss and yet another NIT berth. It was frustrating because programs such as Purdue and Ohio State had improved significantly with new coaches during that time.

The closer I evaluated Michigan basketball, the more I started to notice that Amaker just wasn't getting the job done. This was for various reasons such as players like Dion Harris, a former Mr. Basketball in the state of Michigan, remaining the same throughout his career. The same can be said about Courtney Sims as he never really progressed either. Sims also failed to dunk a basketball on a few occasions, even when being directly under the basket.
The bottom line came down to whether if Amaker was just not that good of a head coach OR he wasn't raking in the necessary talent. It was actually a mixture of both in my opinion. The complacency was made quite apparent during the last two years of his tenure at Michigan, which resulted in the same old song and dance. I grew weary of the post-game interviews that included players saying "we tried" and "they were just the better team." That type of talk clearly reflected upon Amaker and the current state of the program at the time. As soon as another NIT bid was accepted, I knew Amaker's days were drawing to a conclusion. I don't dislike Amaker, though. He deserves a great amount of respect for the way he cleaned up the image of the program and made it somewhat respectable.

His firing coincidentally arrived on my birthday two years ago and Michigan clearly had an important choice to make…
a) This-
..Oh! Cheer up, Bernard (far right)! Strike up some Queen!
Weeeeee are *#66*, My Friends!!!
b) The visual definition of March Madness-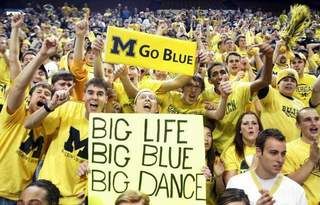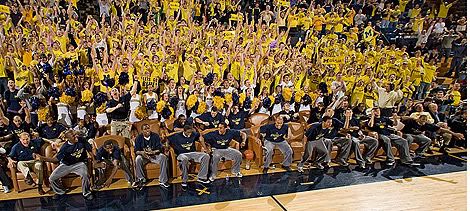 Michigan made a wise choice by bringing Coach Beilein to Ann Arbor and I can only hope the second WVU experiment goes the same way this fall in the Big House. Anyway, basketball is the topic here and that's a completely different article. I applaud Beilein for the job he has done in such short time because 10 wins to 20 wins is one hell of a turnaround, especially after years of continuous disappointment.
No, these players aren't notorious for their baggy shorts, black Nike socks, and shaved heads… they are just a solid bunch that plays a mean 1-3-1 zone defense and loves to shoot the three ball. Deshaun Sims and Manny Harris (Amaker recruits) have excelled tremendously as a dangerous inside/outside duo in Beilein's system. Other players such as seniors David Merritt, CJ Lee, and Jevohn Shepherd have become more valuable on the cour and their vocal leadership has also paid off. In addition… fellow freshmen Laval Lucas-Perry, Stu Douglass, and Zack Novak also deserve praise for a remarkable season.
Although there were times late in the season when I thought the Wolverines would pack it in and settle for the NIT, they simply did not. Regardless if they lose to Clemson in the first round or if they make a surprise run in the dance, this season was a great achievement. It was also a long time coming...
Hail! Hail! Beilein!
0 Comments: