Published by Duane Breckenridge on Saturday, October 18, 2008 at 9:11 AM
The Michigan football team took quite a blow after losing their fourth game of the season against Toledo last Saturday. As a result, many fans, including myself, were not very happy with the outcome. Yes, this type of season was somewhat expected, but… losing to a MAC team for the first time in 25 attempts and being 2-4 tends to leave an impression or feeling that us Michigan fans are unfamiliar with.

The feeling that I refer to is in regards to coping with a possible losing season and not seeing the Wolverines in a bowl game for the first time in 30 plus years. It is indeed a tough pill to swallow because throughout my years of being a fan of the maize and blue- I have only endured 7-5 and 8-4 records. Well, this season seems to be heading for something like 5-7… maybe 6-6 at best. Am I disappointed? Certainly! Who isn't??? My generation has not been accustomed to seeing a Wolverine football team play so inconsistent and flat, but perhaps we have been too spoiled and our expectations demand immediate results that are just not feasible during this time of transition.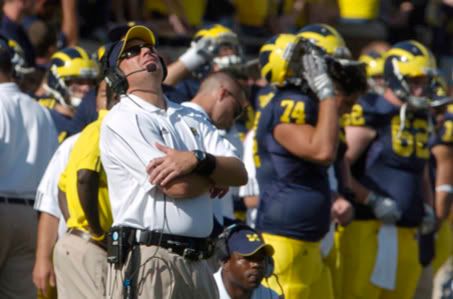 *insert "picture says a thousand words" cliche' here*

I believe it is quite irrational for fans to call for Rodriguez' head after only six games because it is clear that he is equally as frustrated with the teams lack of ability and execution on Saturdays. One must look at the facts before they criticize and solely blame Rodriguez for this down season. The truth is that no offense can be consistent with a majority of freshmen playing at all the skill positions. Also, Rodriguez is doing the best he can with an apparent makeshift offensive line that changes from week to week. It was already made clear before the season started that the QB position and offensive line were areas of concern. Rodriguez also said on numerous occasions that the offense wasn't quite where it needed to be. The things that he said way back in the spring still hold true now, so… at least he was being honest.

The bottom line is that Michigan football fans wanted a change and now we have it. However, it just so happens that a rough transition accompanies this change. If the spread offense is the future of football then we must be patient and hope it develops in the near future. I would expect for Rodriguez to have things clicking properly by the 2010 season because all of HIS players should be well adapted by then. Next season will be an improvement and there could be a great chance of seeing flashes of what Rodriguez' offense is more capable of doing, but …2010 seems to be the season for ultimate results.

In the meantime, I shall invest in some Snickers bars because I'm not going anywhere nor am I giving up on this team. Coaches like Bob Stoops, Pete Carroll, Jim Tressel, and Nick Saban all struggled in their first seasons. Rodriguez also had his times of adversity in the early stages at West Virginia and eventually the Mountaineers achieved success, so I am willing to be patient for a couple of years as opposed to being pissed and done with a coach that hasn't even completed a whole season.

I guess if there is one positive observation to make… the Wolverines are still only 1-1 in the conference and perhaps they will make a late charge, however it is quite unlikely. It doesn't matter, though. They can play spoiler or lose out and I would still be a fan of the maize and blue. I suggest that the anti-Rodriguez crowd look toward Morgantown, WV this season for an indication of how much of a difference his presence made as the head coach. The Mountaineers are struggling with a once highly ranked team with experience to boot.

Give Rodriguez the necessary time needed and take the future into consideration.

Go Blue!
0 Comments: